Opstaan met Vrolek ("Waking Up with Vrolek") was a radio show by Daan Berg, bringing local news for the municipality of Nederlek.
This was Daan's first radio show, and the last local events show to be heard on Radio Vrolek before the merger into RTV Krimpenerwaard.
The first episode of Opstaan met Vrolek aired on 16th April 2011 from 10:00 until noon. Later, the show got an hour of extra airtime and started at 09:00.
The last episode aired on 30th August 2014.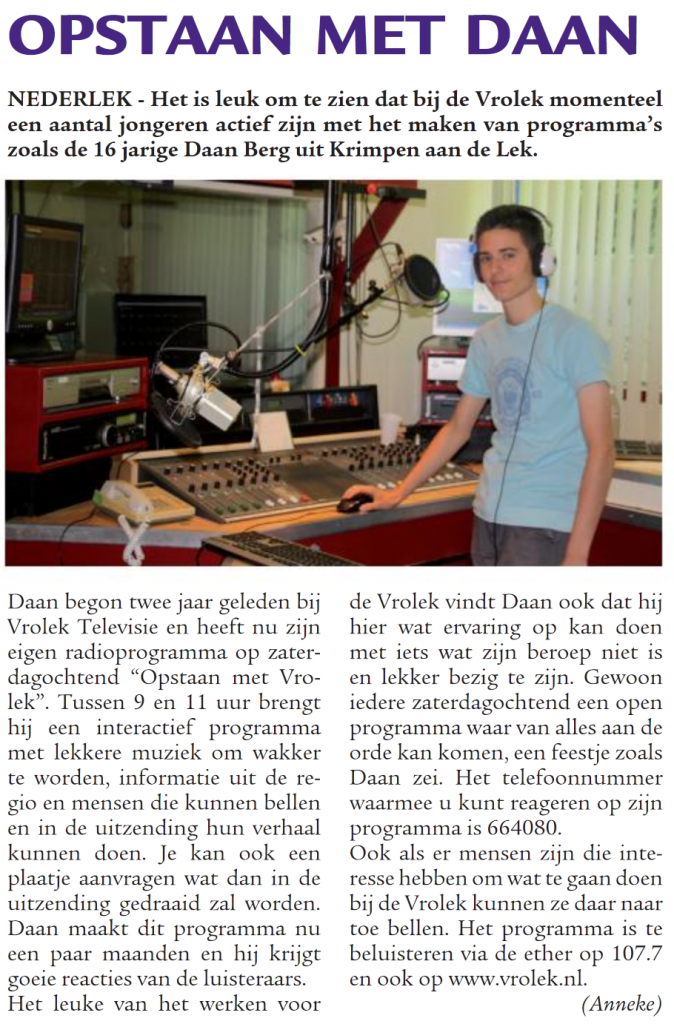 History
Before Daan started making the show, Opstaan met Vrolek already existed — it was being hosted by Felix van Dam.
After he left, editor-in-chief Jan Berger decided to introduce Daan to the timeslot.
He started with a fresh format while keeping the name, as informing listeners remained the show's objective.
Interactivity
Daan aimed for more interactivity than his predecessor. A new website was launched together with the first airing, allowing listeners to find and listen previous episodes and easily contact the studio by email or chat. Later, video recordings of the broadcasts and other news articles were also published on the site.
The website was never used much. There were a few frequent callers however, like Jan Bravenboer from Nieuw-Lekkerland who would often request old songs reminding him of good times.
Controversy
Gary's Tearoom
On 10th November 2012, Daan called Gary's Tearoom in Dordrecht unannounced live on the air. Daan had been contacted by two people who had reserved seats at the establishment, but were banned at the door. The owner had sent them away because they brought a child — something which was not forbidden according to the reservation policy at the time.
The owner Gary answered the phone, and Daan repeatedly pointed out the discrepancies between his handling of the matter and what he publicly communicated. The conversation didn't go anywhere and Gary hung up the phone.
The story was picked up by the local news website iDordt, after which Gary complained to the Journalism Council. A mediator of the council spoke to the radio station and the tearoom management, after which no further steps were taken.
On 2nd August 2013, the television show Radar covered the practices of Gary's Tearoom. iDordt then reported that the store was closed and the owner was preparing a lawsuit. This never came to fruition.
Profanity
Like many local public radio stations, Radio Vrolek was supplied with national news bulletins by the NOS.
On 18th May 2013 the newscaster on duty was recording their bulletin when he tripped on words and cursed loudly before stopping the recording.
This recording was inadvertently sent out to a few hundred of local stations as the definitive bulletin for that hour, which caused it to go out on-air as such during Opstaan met Vrolek.
All episodes
| Afl. | Datum | Met | Opmerkingen |
| --- | --- | --- | --- |
| 176 | 2014/08/30 | Daan Berg, Nick van Luyk | |
| 175 | 2014/08/23 | Daan Berg | |
| 174 | 2014/08/16 | Daan Berg | |
| 173 | 2014/08/09 | Daan Berg | |
| 172 | 2014/08/02 | Daan Berg | |
| 171 | 2014/07/26 | | |
| 170 | 2014/07/19 | | |
| 169 | 2014/07/12 | | |
| 168 | 2014/07/05 | Daan Berg, Jeffrey Mayer, Harald Hanemaaijer | Te gast: jazzband Cookin' |
| 167 | 2014/06/28 | Daan Berg | |
| 166 | 2014/06/21 | Daan Berg | |
| 165 | 2014/06/14 | | |
| 164 | 2014/06/07 | Daan Berg | |
| 163 | 2014/05/31 | Daan Berg | |
| 162 | 2014/05/24 | Daan Berg | |
| 161 | 2014/05/17 | Daan Berg, Clemens Leunisse | Vanuit studio 2 in verband met blikseminslag in studiogebouw de avond ervoor. Clemens Leunisse maakte op dat moment een programma en reageert in Opstaan met Vrolek. |
| 160 | 2014/05/10 | | |
| 159 | 2014/05/03 | Daan Berg, Cees Kool | |
| 158 | 2014/04/26 | | |
| 157 | 2014/04/19 | Daan Berg | |
| 156 | 2014/04/12 | Daan Berg | |
| 155 | 2014/04/05 | Daan Berg | |
| 154 | 2014/03/29 | | |
| 153 | 2014/03/22 | Daan Berg | |
| 152 | 2014/03/15 | Daan Berg | |
| 151 | 2014/03/08 | Daan Berg | |
| 150 | 2014/03/01 | Daan Berg | |
| 149 | 2014/02/22 | Daan Berg | |
| 148 | 2014/02/15 | Daan Berg | |
| 147 | 2014/02/08 | Daan Berg | |
| 146 | 2014/02/01 | | |
| 145 | 2014/01/25 | Daan Berg, SamenLoop voor Hoop Nederlek | |
| 144 | 2014/01/18 | Daan Berg | |
| 143 | 2014/01/11 | Daan Berg | |
| 142 | 2014/01/04 | Daan Berg | |
| 141 | 2013/12/28 | Daan Berg | |
| 140 | 2013/12/21 | Daan Berg | |
| 139 | 2013/12/14 | | |
| 138 | 2013/12/07 | | |
| 137 | 2013/11/30 | Daan Berg, Ronald de Haas | |
| 136 | 2013/11/23 | Daan Berg, Jan Boon | |
| 135 | 2013/11/16 | Daan Berg | |
| 134 | 2013/11/09 | Daan Berg | |
| 133 | 2013/11/02 | Daan Berg, Jeroen van Gent | |
| 132 | 2013/10/26 | Daan Berg | |
| 131 | 2013/10/19 | Daan Berg | |
| 130 | 2013/10/12 | Daan Berg | |
| 129 | 2013/10/05 | Daan Berg | |
| 128 | 2013/09/28 | Daan Berg | |
| 127 | 2013/09/21 | Daan Berg | |
| 126 | 2013/09/14 | Daan Berg | |
| 125 | 2013/09/07 | Daan Berg | |
| 124 | 2013/08/31 | Daan Berg, Luis Suarez | Interview met Luis Suarez van IBM over leven zonder e-mail |
| 123 | 2013/08/24 | Daan Berg | |
| 122 | 2013/08/17 | Daan Berg, Simon de Jong | |
| 121 | 2013/08/10 | Daan Berg | |
| 120 | 2013/08/03 | | |
| 119 | 2013/07/27 | | |
| 118 | 2013/07/20 | | |
| 117 | 2013/07/13 | Daan Berg, Alex Ouwehand | |
| 116 | 2013/07/06 | Daan Berg, Monique Diemers | |
| 115 | 2013/06/29 | Daan Berg, Peter van Delft, Ger de Jonge | |
| 114 | 2013/06/22 | Daan Berg | |
| 113 | 2013/06/15 | Daan Berg | |
| 112 | 2013/06/08 | Daan Berg | |
| 111 | 2013/06/01 | Daan Berg, Chris Teljeur, Titia Mouth | |
| 110 | 2013/05/25 | Daan Berg | |
| 109 | 2013/05/18 | Daan Berg, Anja Brand, Nico Dullaart, Leo Vermeulen | |
| 108 | 2013/05/11 | Daan Berg | |
| 107 | 2013/05/04 | Daan Berg | |
| 106 | 2013/04/27 | Daan Berg, Joyce de Vries, Ilja Bakker | |
| 105 | 2013/04/20 | Daan Berg, Wim Kruijs | |
| 104 | 2013/04/13 | Daan Berg | |
| 103 | 2013/04/06 | Daan Berg, Mandy Scheffer | |
| 102 | 2013/03/30 | Daan Berg | |
| 101 | 2013/03/23 | Daan Berg | |
| 100 | 2013/03/16 | Daan Berg | |
| 99 | 2013/03/09 | Daan Berg, Nico Dullaart | |
| 98 | 2013/03/02 | Daan Berg, Yvonne Weijnen | |
| 97 | 2013/02/23 | Daan Berg, Fred de Ruijter | |
| 96 | 2013/02/16 | Daan Berg | |
| 95 | 2013/02/09 | Daan Berg, Marijke Bos | |
| 94 | 2013/02/02 | Daan Berg, Rob Geleijnse | |
| 93 | 2013/01/26 | Daan Berg, Han Karels | |
| 92 | 2013/01/19 | Daan Berg, Herald Nobel, Conny Verheul, Iris Dommanschet, Mandy Scheffer | |
| 91 | 2013/01/12 | Daan Berg | |
| 90 | 2013/01/05 | Daan Berg | |
| 89 | 2012/12/29 | Daan Berg | |
| 88 | 2012/12/22 | | |
| 87 | 2012/12/15 | Daan Berg, Rob Geleijnse | |
| 86 | 2012/12/08 | Daan Berg | |
| 85 | 2012/12/01 | Daan Berg | |
| 84 | 2012/11/24 | | |
| 83 | 2012/11/17 | Daan Berg, John den Boer | |
| 82 | 2012/11/10 | Daan Berg, Huig Rook, Gary Tugwell | Uitzending met het telefoontje naar Gary's Tearoom te Dordrecht |
| 81 | 2012/11/03 | Daan Berg, Lennie Huizer | |
| 80 | 2012/10/27 | Daan Berg | |
| 79 | 2012/10/20 | | |
| 78 | 2012/10/13 | | |
| 77 | 2012/10/06 | | |
| 76 | 2012/09/29 | Daan Berg | |
| 75 | 2012/09/22 | | |
| 74 | 2012/09/15 | | |
| 73 | 2012/09/08 | | |
| 72 | 2012/09/01 | | |
| 71 | 2012/08/25 | | |
| 70 | 2012/08/18 | | |
| 69 | 2012/08/11 | | |
| 68 | 2012/08/04 | | |
| 67 | 2012/07/28 | | |
| 66 | 2012/07/21 | | |
| 65 | 2012/07/14 | | |
| 64 | 2012/07/07 | | |
| 63 | 2012/06/30 | | |
| 62 | 2012/06/23 | | |
| 61 | 2012/06/16 | | |
| 60 | 2012/06/09 | | |
| 59 | 2012/06/02 | | |
| 58 | 2012/05/26 | | |
| 57 | 2012/05/19 | | |
| 56 | 2012/05/12 | | |
| 55 | 2012/05/05 | | |
| 54 | 2012/04/28 | | |
| 53 | 2012/04/21 | | |
| 52 | 2012/04/14 | | |
| 51 | 2012/04/07 | | |
| 50 | 2012/03/31 | | |
| 49 | 2012/03/24 | | |
| 48 | 2012/03/17 | | |
| 47 | 2012/03/10 | | |
| 46 | 2012/03/03 | | |
| 45 | 2012/02/25 | | |
| 44 | 2012/02/18 | | |
| 43 | 2012/02/11 | | |
| 42 | 2012/02/04 | | |
| 41 | 2012/01/28 | | |
| 40 | 2012/01/21 | | |
| 39 | 2012/01/14 | | |
| 38 | 2012/01/07 | | |
| 37 | 2011/12/31 | | |
| 36 | 2011/12/24 | | |
| 35 | 2011/12/17 | | |
| 34 | 2011/12/10 | | |
| 33 | 2011/12/03 | | |
| 32 | 2011/11/26 | | |
| 31 | 2011/11/19 | | |
| 30 | 2011/11/12 | | |
| 29 | 2011/11/05 | | |
| 28 | 2011/10/29 | | |
| 27 | 2011/10/22 | | |
| 26 | 2011/10/15 | | |
| 25 | 2011/10/08 | | |
| 24 | 2011/10/01 | | |
| 23 | 2011/09/24 | | |
| 22 | 2011/09/17 | | |
| 21 | 2011/09/10 | | |
| 20 | 2011/09/03 | | |
| 19 | 2011/08/27 | | |
| 18 | 2011/08/20 | | |
| 17 | 2011/08/13 | | |
| 16 | 2011/08/06 | | |
| 15 | 2011/07/30 | | |
| 14 | 2011/07/23 | | |
| 13 | 2011/07/16 | | |
| 12 | 2011/07/09 | | |
| 11 | 2011/07/02 | | |
| 10 | 2011/06/25 | | |
| 9 | 2011/06/18 | | |
| 8 | 2011/06/11 | | |
| 7 | 2011/06/04 | | |
| 6 | 2011/05/28 | | |
| 5 | 2011/05/21 | | |
| 4 | 2011/05/14 | | |
| 3 | 2011/05/07 | | |
| 2 | 2011/04/30 | Daan Berg | |
| 1 | 2011/04/23 | Daan Berg, Ron van der Haterd | |